It's drizzling right now and the air is cool and refreshing and smells so amazing I would like to dunk my head in it.
Remember the rubberband ball from 2010?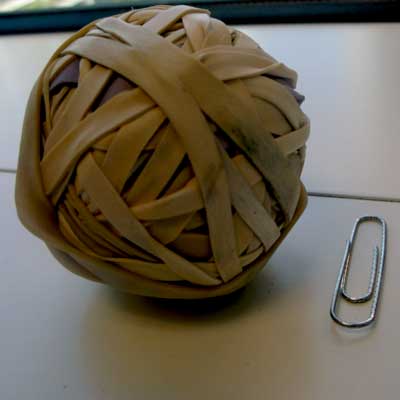 Stay tuned to see what it looks like now.
I didn't have time to watch a full match today. Monday is my long day and I guess technically I wasn't required to go to exercise class, but I decided to prioritize after all the chip eating and sitting on the couch I did over the weekend.
I only watched the first half of the Croatia v. Mexico game and Murphy's Law: if I pick only one half to watch, if will be the less eventful half. Sounds like the second half was off the hook. I'll have to check the highlights reel later. I loved the purple goalie outfit.
A few miscellaneous notes:
Netherlands finally wore orange and I missed it. Bet I'll get another chance.
During the Iran v. Argentina game I thought the commentator said something about how this player "moves like Jagger" as in a reference to the song and I thought it was sort of strange but also funny. But then I kept hearing it. There's an Iranian player named Ashkan Dejagah. When Forvo says it it doesn't sound quite like Jagger. But during the broadcast with the crowd noise you can understand how my delicate ears misheard.
Here's the rubberband ball 2014. It's very heavy and would hurt if it bopped you in the head.
Finally, I can't believe I forgot about this Jezebel has been doing World Cup thighlights. Enjoy!
I never say this but look at the comments, too. More photos. Batch two.