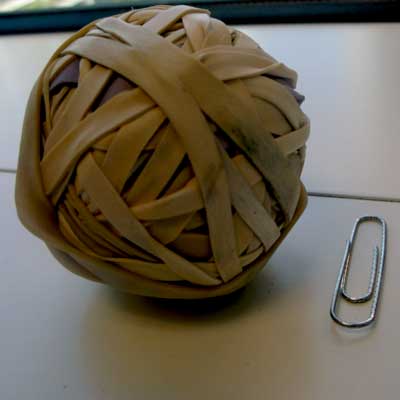 Co-worker returned from vacation a couple of months ago and announced: I'm making a rubberband ball. Here's the progress so far.
None of these games knocked my socks off.
I watched Portugal play Brazil. Boring.
How come the players argue with the ref? I've never seen a ref change his mind. I've never seen a decision changed. It seems like challenging a guy with a fistful of yellow cards is a bad idea. But they still do it.
The Spain v. Chile game was slightly more interesting until the last 10 minutes when they realized they were both going through and they just kicked the ball to each other.
That's not what the fans came to see.
The minute the game was finished I ran outside. Due to the endless bad weather the yard had been severely neglected and needs a firm hand in every corner.
Today I worked on the berry area.
This is my second bowl of raspberry harvest. I'm not sure what to think. We've had the same raspberry patch since we moved in. We've never gotten more than enough berries to eat as a snack when working out there. I neglected it no more than usual. It's a miracle.
In the background are the asparagus and baby broccoli I'm roasting tonight. The asparagus has been neglected in the fridge for almost a week. A bunch of unexpected stuff came up and we didn't eat dinner at home as much as we thought.
Tonight I get to see Concrete Blonde – yay. Last time I saw them the show didn't go too late. I think we were back in the car driving home by 10:45. I hope it's the same tonight.