All The Way to Reno
Last weekend we had a huge family get together to celebrate Uncle Barry's 70th birthday and Jeff and Meredith's shotgun wedding. I just reviewed my notes and they near completely worthless. I have a story that would be difficult to tell here without knowing the parties involved. Then I wrote down a story Aunt Judy told about her son winning a contest in college with funny expressions and he won with either: "crazier than a runover dog" or "sweating like a bad girl in church." (They're from Texas.)
I have a vague recollection of jotting some notes later on but I don't know where they are and don't feel like digging around right now. Since my dear husband is off in George, Washington, (yes, a real place) I have the house to myself and decided to do a writing marathon. In between writing I'm doing chores including tons of yardwork and other things but it's turned out that I've been working like crazy — in the best possible way — but I'm tired and looking through all the tiny bits of paper to find my notes doesn't sound like fun right now. If you haven't noticed, I tend to be a bit tightly wound and one of my coping mechanisms is to write things down. Things to do. Things to remember. Things to read. It's awesome but sometimes the sheaf of paper impractical.
(This photo is me taking a photo of Sinead and Curt taking a photo of me. I have a whole series of these. Why does this never get old?)
Bob and I flew to Reno on Southwest. It *was* really cheap but SW is my 2nd least favorite airline after Delta and I was going to link to those stories except I remembered I never put them back up. I'm going to have to do that one of these days. I originally posted the stories way before the Internet was used as a regular source of heinous customer service stories and I got a blizzard of freak notes including several from Delta and Southwest's IPs. We were all so unsophisticated back then.
SW wasn't as dreadful this time around but I don't understand the appeal. I don't mind paying an extra $20 to get a seat assignment. We paid for our tickets 4 months ago and were 2 hours early to the airport and we sat in the last row of the plane because we weren't all dialed into the tricks. Uncle Joey says the tail is the best part because whenever you see wreckage from a plane crash, the tail is the only thing you can recognize.
This story isn't about SW Airlines. We were on the same flight as Aileen, Kathy and Katie so we got to visit at the airport and then got off the plane together and went to wait for our shuttle. We actually were in Sparks, NV at John Ascuaga's Nugget and the way John had his name on virtually everything from the restaurants to the coasters, I'm a little afraid for the size of his wiener. But the resort was nice. Huge casino. Nice, comfortable rooms. Good hospitality. Most of our group was on the same floor.
Bari, Curt and the girls had a suite on the 29th floor. They set up shop and this was the main meeting spot besides the Horseshoe Bar downstairs. Here's the bar. It cost $20 to bring all those extra glasses up. Gouge. Gouge.
I very stupidly drank a glass, tiny cup of white wine on the plane because Kathy had free drink coupons and she gave me 4. Four free drinks, how could I pass without even having one! Even though it was before Noon and I know better than to drink before Noon. Turns out each coupon equaled a dollar so I only had one free drink and then was a zombie for the rest of the day. So after seeing all our cousins, Uncles, Aunties and assorted people I had to take an epic 2 hour nap.
My Mom and Dad arrived by then and after more catching up we went to John's Oyster Bar to get some dinner. After dinner I rallied because we had tickets to see Riders in the Sky which turned out to be fun. The only bummer was I couldn't see very well and turns out the entire upper balcony was practically empty and I could have sat with Mom and Dad and seen everything. After the show I staggered off to bed and swore, "No drinking before Noon, ever again."
This was a sign in the resort near the pool which was on the 5th floor. If I was building a pool, I doubt my first thought would be the 5th floor, but then I'm fine with the size of my wiener. The pool had huge sliding ceiling panels to let in real sunlight.
On Saturday Bob went downtown to go to the art museum. (Yes, Reno has an art museum. I was surprised, too.) His thinking was to get out of my hair so I could visit with all my family without him hanging around. Meanwhile, I was up and about and feeling sorry for myself because I was all alone and didn't want to bother anyone and wake them up. There were two babies on the trip and if I've learned anything about babies, when they sleep, it's a magical time.
I ran into Uncle Joey and we walked over to the coffee house not inside the resort and I had my chai and muffin and then we walked back to the resort and he had a Bloody Mary for breakfast. I hope to be like him someday. The resort had a "Bloody Mary Buffet" and damn, if I didn't manage to get a photo. By now I ran into people I knew every time I walked through the casino. (Our group totaled around 40). I found my cousins and babies and learned that everyone was up before 6am because those babies didn't want to sleep in Reno.
I spent most of the day visiting and went on an epic walk with my cousin, Lisa and enjoyed the wonderful sunshine and desert environs. My cousin Bari planned the party and had sent out a huge spreadsheet with who was going and how to contact them and whether they were driving or flying and when they would arrive and the activities and when/where they were happening. During the whole weekend people were always saying, "What time is that?" or "When is that?" and then the refrain: "Check the spreadsheet." Those without the spreadsheet were in sorry shape.
The big party was in Orozko a Basque restaurant. This is the birthday man (standing) with my Mom and Dad. I thought I had my photo taken with him but must have been another person's camera. No family event has ever been as well documented as this weekend. The party was fun and entertaining. I had the lamb. Yum-baaah.
The party ended by 9pm because Uncle Barry has an early bedtime but a group set out from the casino to an area called Victorian Square where there were some bars and live music. We lasted about one round and headed back. I went to the party suite and was very proud of myself for staying up until 1am with the big kids. Of course, I felt like death warmed over the next day. I blame Auntie's wine in a box. (Well, and me for thinking it was a good idea to drink some.)
On Sunday Cousin Jeff married Meredith and the back-story is his to tell so we're going to skip that part but this all came on very quickly and there was some concern prior to the event sort of like, "what are they thinking?" Everyone in the family who met Meredith said she was great but you still want to see for yourself and long story short, everything is going to be great for those two. I think they both did good. I was at a weird angle and most of my photos are of the back of people's heads but this one looks nice. It's Jeff and Meredith with Jeff's Mom and Dad (the Auntie with the bad wine and Uncle of the 70th birthday) and Jeff's nieces, Josa, Geena and Sinead (Whose Mom and Dad = Bari and Curt with the party suite). Don't worry if you can't follow. I've been related for 43 years and I can barely keep up sometimes.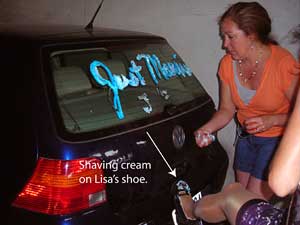 Bari, Lisa, Kathy and I decorated the wedding car and I suckily didn't get a final photo of the results. It was an adventure because the shaving cream slid down the back and ran out early so there was some extra creativity with lipstick and foam. I really didn't do much but watch.
Super fantastic trip and I will update when I get the Flickr stream up. Now my dinner is waiting and I've earned some TV time. (But not much because it's already 8pm and I can barely keep conscious after 9pm. Kids: enjoy your youth because the older you get, the more appealing sleep becomes. Unless you're Bob.)
Update: Photos are here.