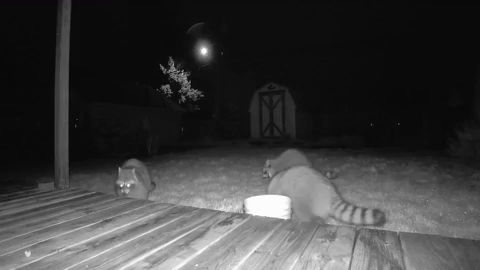 A couple of weeks ago I had a couple of opossum frolicking around the backyard. For a moment I thought it might be a NSFW clip or in the alternative way of thinking, an educational video.
They ended up looking for snacks and continuing on their way.
The bunny also showed up again, paused in the middle of the yard and then headed for the exit in three giant leaps. On the video the bunny was so small it would have been to hard to see in a post but it was a hilarious clip.
We also have cats coming through regularly, often cats I've never seen before. They look in the bucket and then possibly shudder and keep going without touching it.
I am constantly astonished by the quantity of TV shows coming out. Who can keep up with all this TV? I try to make notes of things that are up for awards or made by people I admire.
I'm still working on shows that are airing now. Every time I turn around I am blasted with ads for new shows or another season of a show I didn't know existed. For some reason I am enjoying gloomy international detective shows. Tonight I have the last episode of season 1 of The Break.