A photo from the Ave. which I include for my CW family.
We did a quick trip to Seattle last weekend.
Well, we were invited to a Sounders game and, of course, I wouldn't want to miss that. I love the Sounders except when they play the Timbers.
The game was really fun. We had an awesome dinner. Andy and I took turn cleaning the bottom of the New Orleans Famous Barbecued Shrimp bowl. I think the ingredients are butter and magic. Then we headed for the stadium where all the craziness was going on.
It rained during the half but no fear, I had my plastic pants (complete post on the plastic pants, coming soon). Our seats were rain free but still, plastic pants. Seattle had about a million shots on goal but no score in the first half which was very exciting but I was glad it wasn't my team because I would have had a heart attack. They managed to get one in in the second half.
Really fun time. Thanks Hannah and Andy.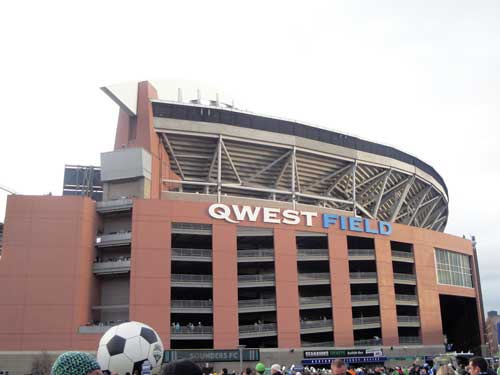 We spent a day running around visiting people we don't often get to see. We also saw fantastic photography exhibit at the Henry at University of Washington. It was photos pre-WWII by the Seattle Camera Club which was mostly Japanese immigrants. It was a mix of portraits, nature and miscellaneous.
A great day.
On Sunday Bob put me on the train to come home and he stayed to attend a conference.
I had a relaxing trip home and got to finish a book and saw two bald eagles. I always see bald eagles when I'm on the train.
Today was a day of problem solving. Ants in the house again. Another set of window blinds broke. I bought them all at the same time so I guess they're all going to poop out on me. More stuff I'm too lazy to type out.
Bob and I went on a long walk and I have trillium photos for later.